So we've talked about the history of the town, and where to grab a bite to eat, but what about activities during the day? Luckily for you, there's plenty to do!
*Sidenote, I haven't been sponsored by any of the places I talk about, it's my honest opinion!
---
Shopping
If you're shopaholic like me, you'll appreciate a good range of shops and stores, and Clermont-Ferrand has plenty. It might not be the Champs-Elysées, but there's plenty of places to lighten your wallet.
Centre Jaude shopping centre
Centre Jaude and Jaude 2 are Clermont-Ferrand's main shopping outlets, boasting over 130 shops in total as well as plenty of indoor seating to rest your feet and hands after blowing your budget in the plethora of clothing, home and leisure shops. Well known brands like H&M, Zara and Swarowski have their place, as well as some smaller companies such as HEMA, Flying Tiger and BIZZBEE.
Pop Art Factory
Love kitsch and colourful novelty things? Pop Art Factory is the shop for you! I've mentioned them before in an older post after I bought a Keith Haring-inspired notebook. They also have Andy Warhol notebooks, as well as novelty toys, Kit Kat handbags, artwork and more. It's only a small shop, but it's definitely worth the visit. Check out their Instagram page here: https://www.instagram.com/popartfactoryclermont/
Les Bonbons de Moinet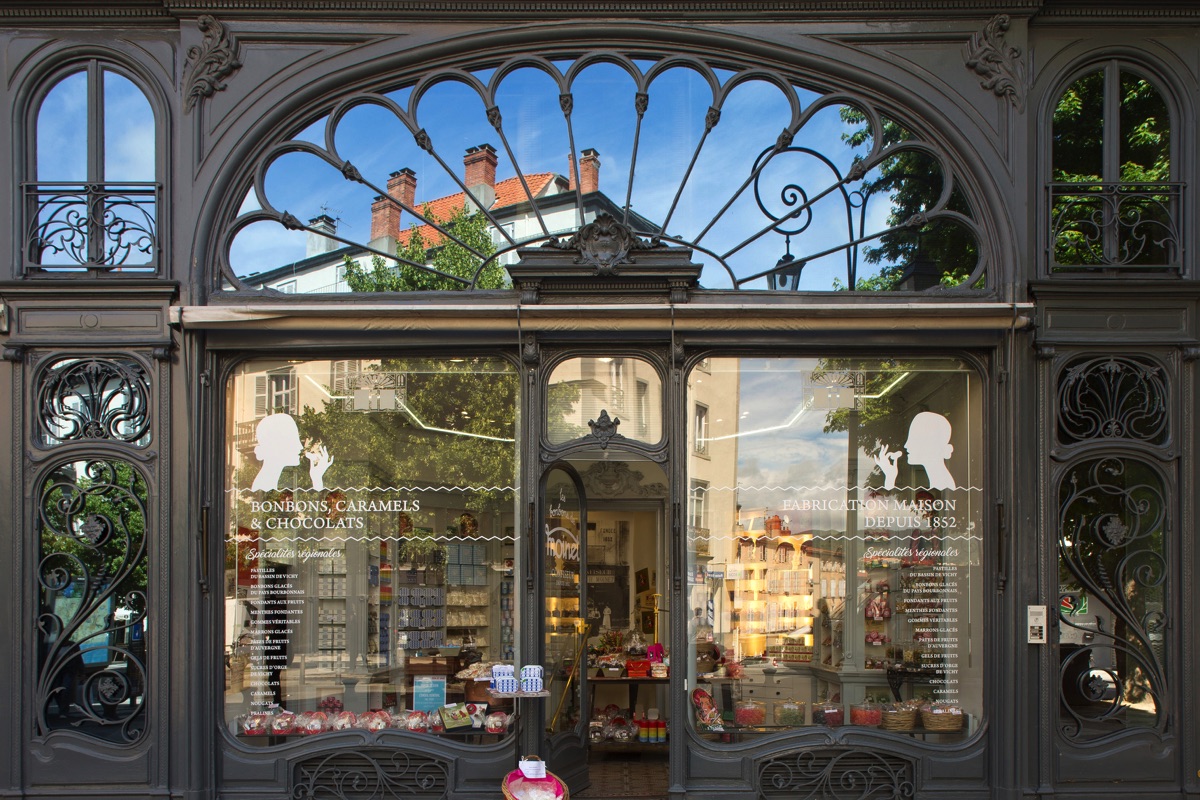 I first visited this beautiful chocolate shop on a trip through the town, and I fell in love with it. When you walk in, it feels like a giant chocolate selection box, with lots of beautiful chocolates and sweet treats. It's a perfect place to buy a gift for a special person around Valentine's, or to treat yourself. It may cost more than average, but trust me, it's worth it. The gorgeous Art-Nouveau façade really gives off a Parisian vibe and is perfect for that holiday Insta post!
Scop Librarie Les Volcans
Any bibliophiles out there will appreciate a good bookshop, and this is one. Although the majority of books are in French, there is an English-language section. Not only do they sell reading material, but also music and films, again mainly French but some in English, and a papéterie for any stationery addicts out there.
Tourism
You don't go to such a historically interesting town as Clermont-Ferrand and not visit a museum or two. Here's some places that should be high up on your list of things to do.
Maison du Tourism
Or in English, the Tourism Office. And in German? Fremdenverkehrsamt. Well, according to dict.cc. Anyway, the Maison du Tourism should be any visitor's first stop to get plenty of info on the town and to pick up a map. You don't want to get lost! Being the tourism centre, they should have multiple languages available, so don't worry too much if you're not a confident French-speaker.
Maison de la Culture
Here you'll find dance shows, music events, theatre and film. They are also the main location of the annual Clermont-Ferrand Short Film Festival (in French: Féstival du Court Métrage de Clermont-Ferrand. For the Winter 2018/19 show list, click here: http://lacomediedeclermont.com/saison18-19/programmation/
Musées D'Art Roger Quillot (MARQ)
The Roger Quillot museum is Clermont-Ferrand's main classical art gallery, packed full of paintings, sculptures and even old pieces of furniture, making a collection of over 750 pieces. Well worth a visit if you're the arty type. Plus, it's located right in the Montferrand part of town, which is full of old and interesting people. Oh, and buildings too, I suppose.
Muséum Henri Lecoq
There's also a public garden named after Monsieur Lecoq, but we'll get to that later. For now, the Muséum Henri Lecoq is a natural history museum for you dinosaur buffs and those fascinated by old bones. It's been open since 1873 and has brought in children, teens and adults alike.
Musée Bargoin
If 20th century art is too young for you, then the Bargoin museum is where it's at. Don't confuse 'Bargoin' with 'bargain', though. The collections shown here are surely worth a lot of money. Featuring pieces dating back to the Bronze Age and bits and bobs from the Gallo-Roman era of the town, you'll surely find an interesting piece of ancient history to your taste.
Sports
It truly baffles me why people would go on holiday to actually do sports. Willingly. If you hadn't guessed already, sports isn't my thing. But even I found some interesting outdoor activities to keep your body healthy.
ASM Stade Marcel Michelin
The Marcel Michelin rugby stadium could also have a place in the list of museums, because they have their own display showing the history of the local team. But if you come at the right time of year, you might catch a game live. With tickets starting at 14€ for standing places right at the side of the pitch, you'd be crazy for not taking advantage of the prices. Admittedly, the food is a little expensive, but they do have maintenance costs after all. Just remember before you come, the Yellow Army of supporters are some of the best in the world, so don't say anything bad about ASM in their vicinity.
Paragliding
Ever since finding out that you can do paragliding from the Puy-de-Dôme, I've been meaning to try it. For 100€ you get a 10-20 minute flight (depending on the weather), and for 20€ more you can have them film it for you! The season is from April until November, and if you want more information, their website is https://www.flying-puydedome.fr/
Skiing

Being such a mountainous region, it's only natural that there are a few ski resorts in the area, the most popular being Chastreix-Sancy and Mont-Dore. While they aren't inside the 'walls' of Clermont-Ferrand, they're not too far away and are still in the Auvergne region; usually a 55 minute drive from the town centre.
Hiking
With such a beautiful region as the Auvergne, you shouldn't waste your whole trip on brick and concrete. Luckily, there are some great hiking trails to follow that take you up and around the mountains, with breathtaking views of the Chaîne des Puys and the villages below. Check out this blog post written by Marie-Eve on her site To Europe And Beyond. The website Hikideas.com has reviewed 11 trails in the Puy-de-Dôme region; https://www.hikideas.com/walk-63-puy-de-dome.html
Relaxation
But what do you want to do after a long week of shopping, walking around museums and hiking mountains? Relax, of course! This is getting to my kind of break away!
Royatonic Spa
(Images sourced from Clermont Auvergne Tourisme)
You know sometimes companies take photos that never actually reflect the real thing? Yeah, this isn't it this time! Apart from the weather and time of day, this is what you walk into for a full 3 hours of pure relaxation. And that's just the pool area. There's also a spa section for massages in case the weight of your shopping bags hurt your shoulders, or you pulled a muscle skiing. I don't know what most of the massages do, but the main website is here: https://www.royatonic.com/, and the spa section is here: https://www.royatonic.com/le-spa.html. There are steam rooms and saunas open to everyone 14+, as well as cold and hot pools so you can really treat your skin.
Jardin Lecoq
With their suburban location, these gardens are the ideal place to sit for lunch and people watch. During the warmer months, you can sit on the lawn with a picnic and watch the fountain, or grab an ice cream from the créperie. Or if you're here during the colder weather, you could take a stroll through, passing the flower displays and evergreen bushes. There's the Universités tram stop across the road on the south entrance, and an Irish bar near the top.
---
And that brings us to the end of This Is Clermont Ferrand! I hope you've enjoyed this series, and found something useful in it. If you enjoyed this series, please like this post so I know to do more of this in the future! Until then, à bientôt!